Yuko Tomizuka, MAI, MRICS, MBA, Certified Appraiser in Japan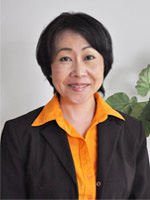 Managing Director, ABRILS.Co,.Ltd, a global real estate and resource consulting firm
Asia Commercial Property Professional Group Board, MRICS.
Strong career in Valuation, Research and Consulting.
Family Business Advisory Associaion -FBAA- Fellow member
Married with Brazilian
Started her carreer in Japan Real Estate Institue, Japan's largest & oldest Real Estate Appraisal firm.
Joined Bear Sterns (2007) to deal with CMBS transactions,
then German real estate banks: Eurohypo (2007-2009), WesstLB Group (2009-2013) to act as an internal consultant.
She also supported a global energy group (Petrobras) to create the dynamism linkage of real estate field and the energy industry (2013-2017)
Her strength covers various commercial asset classes including hotels and shopping malls, and she also has wide network in Europe, Asia, South and North America.
Since 2013, she has been based in Okinawa, Japan's most famous ocean resort destination.
Since 2015, she's been supporting the global hotel consulting business, Asset Real as a partner in Japan,
Asset Real
She has also been working for developing natural disaster risk management standard with other RICS members.
University of Europan Tourism-UET- global business coordinator
University of Europan Tourism-UET
promoting Japan IT Business College, started Human Resource Business (2018)
Japan IT Business College
---
Language
Japanese, English, Italian, Portuguese
Educational Background
2004-2005
SDA BOCCONI MBA CORNELL UNIVERSITY JOHNSON MBA (EXCHANGE PROGRAM)
1988-1992
GAKUSHUIN UNIVERSITY
Bachelor of Law, Civil Law (Inheritance) and Real Estate Law
Certifications
| | |
| --- | --- |
| 2012- | RICS Asia Commercial Property Professional Board |
| 2010 | Membership of RICS, Registered Valuer |
| 2010 | Appraisal Institute in USA-AI- MAI designation completion |
| 2009 | Certified Chief of Money Lending Operation |
| 2000 | Urban Renewal Planner License in Japan |
| 1995 | Certified Real Estate Appraiser in Japan |
| 1989 | Certified Real Estate Transaction Specialist License-Takken- in Japan |
| 2002 | Intermediate Certificate in Wines; Wine and Spirit Education Trust |
| 2007 | Permanent Resident in Brazil-spouse visa- |
Skills
Languages
Japanese (Native language)
English (Fluent, Business Level)
Italian (Fluent, Business Level) Participated in the finals of an Italian Embassy-sponsored speech contest (2000)
Portuguese (Advanced) Diploma Elementar de Portugues Lingua Estrangeira by Centro de Avaliacao de Portugues Lingua Estrangeira Universidade de Lisboa-CAPLE- (2008)
Spanish (Intermediate) Enforex Spanish Language School in Madrid (2002)
Interests
Travel, Ikebana-Japanese traditional flower arrangement- Soami school intermediate level certification, Aikido (2nd DAN Black Belt)–Japanese martial arts- , Watercolour painting , Music, Cooking, Wine business